Peplum Top-Aeropostale (
similar
), Lace Shorts-Target Girls (
similar
), Necklace-
Jewelmint
, Bag-c/o
Massi
, Sandals-American Eagle
Some may call Jersey the "armpit of America", but I beg to differ. I was born and raised in Jersey and lived here pretty much my whole life (with the exception of college and a few years in NYC). Not only is Bon Jovi my jam, but he's practically a neighbor. I recognize all the places on Jersey Shore (even if they are filled with guidos). I'm not afraid to speak my mind and be loud about it. (see this post!).
So, when I got a credit to Jewelmint thanks to a giveaway, I just had to have this Jersey necklace. Proceeds from the necklace go to Hurricane Sandy relief, which I love. Even if you're not a Jersey girl, they have plenty of other states available with a charity attached to each one.
Please note: This post is in no way affiliated with Jewelmint. I just love this necklace and the cause it supports!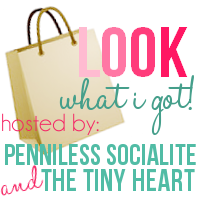 1. follow your hosts
2. grab a button
Or link back to one of your hosts, and help us promote LookWhat I Got!

3. link up!
Link up your post on what you got (for cheap)!
(Please don't link up your entire blog or any posts that arenot "Look What I Got"! )

We love having you link up and we will be reading all your posts! So, if you don't follow the rules and link back you'll be put in time out (i.e. we'll delete your link).

4. mix and mingle
Visit some other blogs and let them know you found them through the link up!