I consider myself to be a bit of a flat iron connoisseur.
My hair is naturally wavy, so the only way I can really get it straight is with a flat iron.

At all times I like to have two flat irons in my possession, one that I use on the regular and an older one for backup. So when the people at Misikko asked me to review the Hana Pro 1" Flat Iron by Hana Salon, I was psyched!
I styled my hair first using Bumble & Bumble's Straight Blow Dry Cream and then dried it with my Hana Pro Air Hair dryer (
reviewed here
) before using the Hana Pro Flat Iron.
I was really excited to see how this
professional hair straightener
compared to my current flat iron. What I liked about it:
-Heat setting is adjustable from 140-450 degrees
-Swivel cord
-2 year warranty
Verdict: The Hana Pro Flat Iron did give me the sleek, straight look that I wanted. However, it took a bit longer to style than with my current flat iron. Next time I'll try it on a hotter heat setting to see if that does the cuts down the styling time.
PS Wishing a very Happy Birthday today to my sister, Alicia!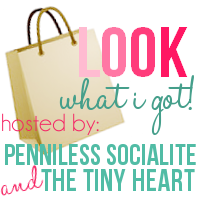 1. follow your hosts
2. grab a button
Or link back to one of your hosts, and help us promote LookWhat I Got!

3. link up!
Link up your post on what you got (for cheap)!
(Please don't link up your entire blog or any posts that arenot "Look What I Got"! )

We love having you link up and we will be reading all yourposts! So, if you don't follow the rulesand link back you'll be put in time out (i.e. we'll delete your link).

4. mix and mingle
Visit some other blogs and let them know you found them through the link up!