So far I have only one romper in my closet. The other day I tried on this adorable pineapple romper, but sadly it was too big on me. So, I decided to make a "faux romper" by pairing a tank and shorts in the same color. I scored these scalloped lace shorts in the Target Girls clearance section for just $10 bucks. And they were the last pair!
Linking up with Mix & Match Fashion
PS Don't forgot to enter my giveaway and help me win Orthaheel's blogger styling competition!
a Rafflecopter giveaway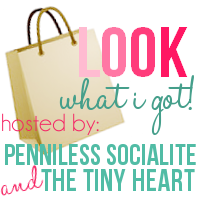 1. follow your hosts
2. grab a button
Or link back to one of your hosts, and help us promote LookWhat I Got!
3. link up!
Link up your post on what you got (for cheap)!
(Please don't link up your entire blog or any posts that arenot "Look What I Got"! )
We love having you link up and we will be reading all yourposts! So, if you don't follow the rulesand link back you'll be put in time out (i.e. we'll delete your link).
4. mix and mingle
Visit some other blogs and let them know you found them through the link up!